Country Time Lemonade
PR | ACT

---
2018's Country Time's Legal Ade campaign raised awareness about how kids were getting busted for their lemonade stands because of outdated, arcane laws. But, in 2019, there where still plenty of states that had these old, arcane laws, on the book—making lemonade illegal if sold at a lemonade stand.
So, in order to change these absurd laws, Country Time set up a juxtaposition that lemonade, a traditional, innocent product, was in fact illegal (if sold at a lemonade stand). And just like the widespread legalization of marijuana, the brand demanded lemonade be legalized in all 50 states.
Press
400MM+ Impressions Earned
CNN | Fox | USA Today | Bloomberg | Abc | The Drum | Little Black Book | Food & Wine | Scary Mommy | The Hill | Delish | Among Others...
Other
Trending post on Reddit with
68,000 upvotes and 92% positivity.
---
---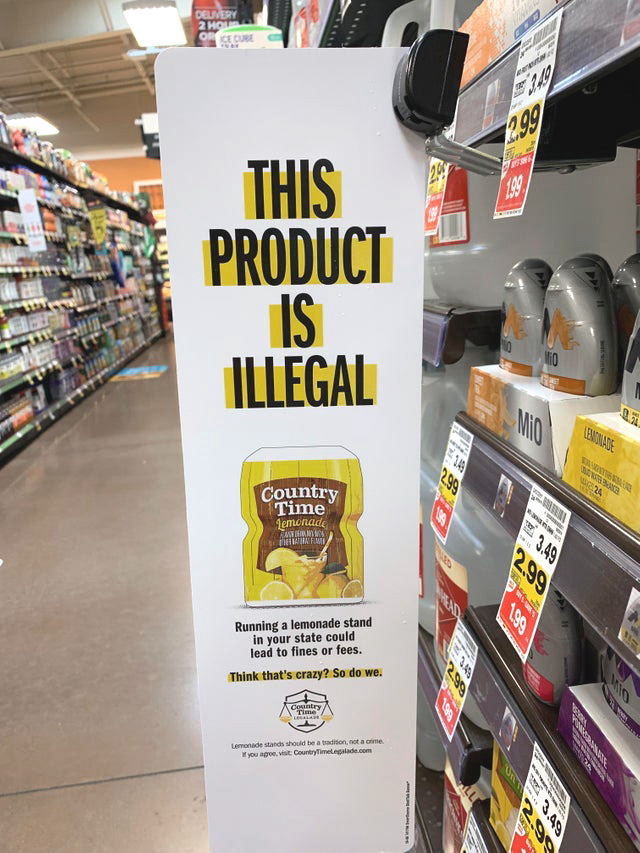 ---
The idea quickly sparked up a conversation around lemonade laws and was soon mentioned in local and national media outlets. Resulting in over 400,000,000 media impressions. It was even the trending post on Reddit, racking up over 68,000 upvotes with 92% positivity.

As the campaign went on, politicians got involved and introduced bills to Legalize Lemonade.

Law changed
︎︎︎ Texas
︎︎︎ Tennessee

In the works
︎︎︎ Pennsylvania
︎︎︎ Minnesota
︎︎︎ New Jersey
---
Team

Pete Lefevre | VP Creative Director
Ryan Stotts | Creative Director
Delaney Erickson| Copywriter
Daniel Jaramillo | Senior Art Director

Agency

Leo Burnett Chicago
Year

2019